The Simple, Free, and Secure Telemedicine Solution
| | | | | |
| --- | --- | --- | --- | --- |
| | | | | |
| | | | | |
| | | | | |
| | | | | |
| | | | | |
| Search Messages in Conversations | | | | |
| Group Communication & Collaboration | | | | |
| | | | | |
| Category Assignment/Filters | | | | |
| | | | | |
| | | | | |
| | | | | |
| Patient Texting & Appointment Reminders | | | | |
| Patient/Family Member Texting | | | | |
| Buzz User to Patient Calling | | | | |
| Linked Office Number to Buzz for Secure Phone Calls | | | | |
| | | | | |
| | | | | |
| | | | | |
| | | | | |
| | | | | |
| | | | | |
| | | | | |
| Organization Based Security | | | | |
| | | | | |
| | | | | |
| | | | | |
| | | | | |
| | | | | |
| Buzz Concierge - White Glove Real-Time Support | | | | |
What you Get by Signing Up for Buzz
Our clients have achieve an unprecedented ROI with improved patient volume with minimal increase in the staff overheads.
It's easy to connect to existing network or extend by adding peers, consultants, caregivers and community partners.
Extensive set of features to exchange information without efforts & duplication.
Flexibility to send information in the most convenient modality- calls, audio messages and more.
Enabling ongoing communication "Beyond Telehealth" without complexity or technology hurdles.
Skyscape provides Lighting Fast Answers – Unique Integration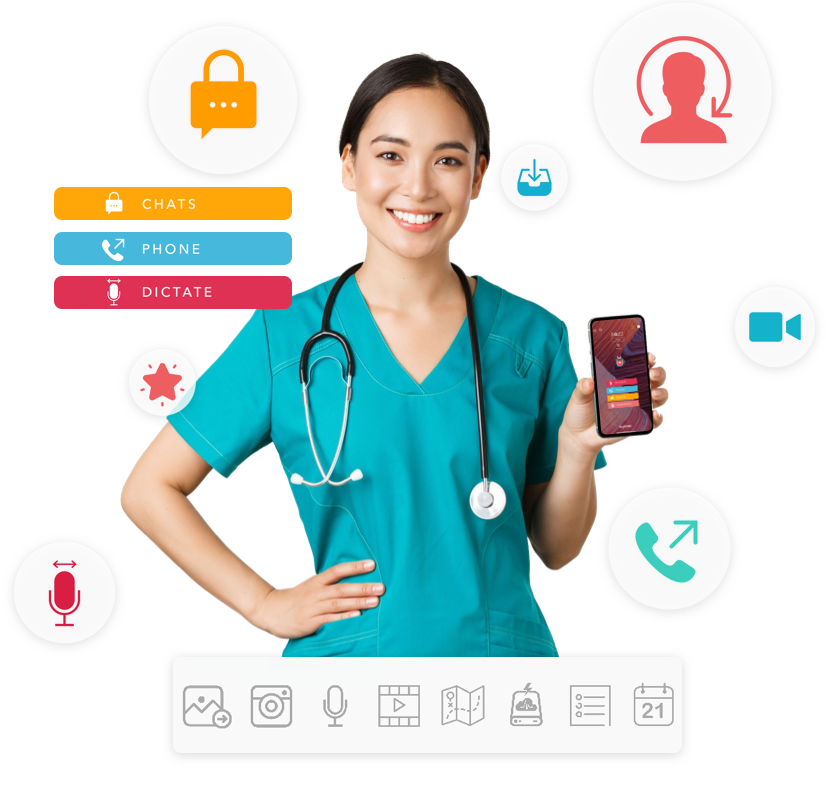 Set your worries aside when using Buzz. Along with its HIPAA-secure & reliable communication it has an abundance of features to improve your teams daily efficiency. With you communication issues solved, you can focus on patients with full attention.
Frequently Asked Questions
Our team is here to answer any of your questions about our solution and it's many uses.
Who should use Buzz?
Buzz is ideal for any group or team within the medical practices and healthcare setting who need to communicate with each other securely and confidently, for their dailt workflow communication and documentaion needs, including the patient related or other administrative exchanges.
Will Buzz cost more in the future?
We are committed to having a universal and democratic communication experience berween HCPs across different silos. So yes, Buzz will always offer a free version for your communication and collaboration needs. In future, there might be premium versions of Buzz that provide additional features – in that case we will charge a subscription fee for such features but the users will not be forced to use those features.
Is Buzz HIPAA-Secure?
Yes! All information sent over Buzz is encrypted using bth Public and Private key. That means only the sender and receiver can read the information.
Get in touch with sales, or create an account