Skyscape Announces Partnership with PointClickCare to Deliver Fully Integrated Clinical Communication and Collaboration Platform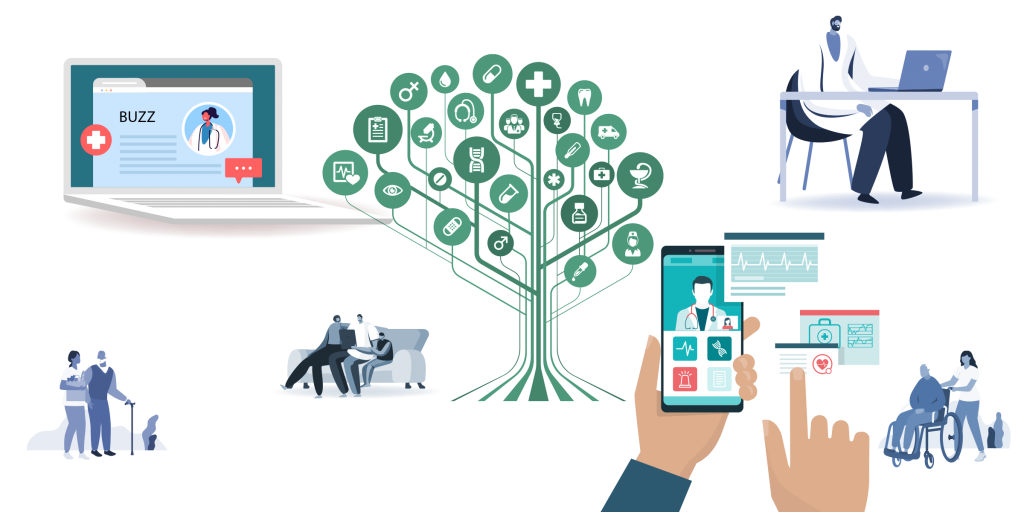 Marlborough, MA (November 3, 2022) — Skyscape®, the leader in trusted medical information and collaboration software, announced the integration of its flagship Buzz® Communication and Collaboration Platform with PointClickCare®. PointClickCare is the world's leading healthcare technology platform enabling access to real‐time insights at any stage of a patient's healthcare journey. Skyscape will offer fully integrated telehealth capabilities and collaboration to extend PointClickCare's innovative technology solutions for care providers in long-term, acute and post-acute settings, along with 1,300 hospitals using the PointClickCare platform.
With Buzz, healthcare teams are empowered to improve continuous case management. The platform combines the power of document sharing and e-signatures, Skyscape's trusted 400+ volume clinical library, and instant messaging in a fully customizable, HIPAA-secure platform. Buzz fulfills the promise of continuous care management across organizational silos by enabling its intuitive and real-time technology to interact bi-directionally with the PointClickCare patient records.
"We have reimagined how healthcare organizations manage patient care while streamlining business operations by improving staff efficiency and satisfaction. With this integration, we have elevated the benefit of real-time communication and collaboration by enabling instant access to patient's clinical history and records live from the PointClickCare platform. We have case studies to demonstrate reduced hospital readmissions and increased staff and patient satisfaction resulting in improved Medicare star ratings", said Sandeep Shah, Founder & CEO of Skyscape
With Buzz, organizations are empowered to improve communications among staff and patients in a cost-efficient manner, while simplifying organization workflows. The Buzz team helps partners reimagine their workflows, creating a customizable communications experience with easy integration into existing infrastructure and EHR systems.
Buzz offers BuzzStream™, a unique integration in a PointClickCare channel that provides a conversational paradigm, effectively operating like a medical assistant. Coordinating all aspects of a patient's medical journey, such as history, notes, directives, medications, allergies, conditions, and more, is as easy as sending simple, intuitive commands to get instant results. Additionally, Buzz allows the patient-centric channels of conversations to be bridged to any patient in the PointClickCare database to enable in-context queries or updates of the records.
The Skyscape team will present at PointClickCare's 2022 SUMMIT at Booth 507 to schedule demonstrations of the product and share how to get the best value out of your PointClickCare workflow with BUZZ.
About Skyscape
Skyscape® is a leading provider of innovative healthcare technology solutions. Buzz®, the unified communication and collaboration platform designed by the Skyscape team, empowers healthcare teams to facilitate streamlined continuous case management in a HIPAA-secure environment. Buzz combines the power of document sharing and e-signatures, Skyscape's trusted 400+ volume clinical library, and communication channels including texts, dictation, private calls, audio, images, reports and video sharing. For more than 20 years, Skyscape has delivered trusted decision-support content by specialty to more than 1 million medical professionals and students at the point of care and in the classroom.
About PointClickCare
PointClickCare is the leading healthcare technology platform enabling meaningful collaboration and access to real‐time insights at any stage of a patient's healthcare journey. PointClickCare's single platform spans the care continuum, fostering proactive, holistic decision‐making and improved outcomes for all. Over 21,000 long‐term, acute and post‐acute care providers, and over 1,300 hospitals use PointClickCare today. For more information on PointClickCare's software solutions, visit pointclickcare.com.
Copyrights
Skyscape, Buzz and PointClickCare are Registered Trademarks, property of their respective owners.