Collective & Collaborative Care Coordination
The following case study provides key lessons from Higher Standards including how to use the application to deepen core values, deliver better care, and how to use the application to grow and thrive as a business.
Details
Company Name: Higher Standards Home Health
Date: 2023
Website: higherstandardshomehealth.com
Higher Standards Home Health is a Medicare-certified group delivering skilled home-based care to Dallas, Texas and the surrounding areas.
The Challenge
Higher Standards is a fast-growing home health group in the Dallas area committed to delivering a VIP experience to all its patients. Their leadership team knew exactly what they needed from a technology partner, but after months of searching, they began to wonder if such an application.
Enter Buzz from Skyscape
Higher Standards co-founder Christina Wise-Orlowski eventually discovered Buzz and, after convincing her staff to give it a chance, has never looked back. Luckily, the Higher Standards Director of Nursing and Assistant Director of Nursing quickly realized that Buzz was unlike their last technology partner. The Buzz team was genuinely invested in their success and provded hands-on support to ensure every staff member could get the most from the product.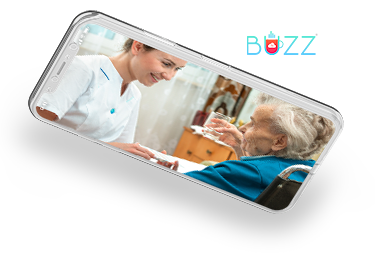 "With Buzz, Higher Standards has expanded its business, increased staff retention and satisfaction, and increased its star rating and survey performance."
"Buzz helped us achieve a more efficient business, a stronger continuum of care for our patients, a staff that knows they can get the help they need to deliver excellent care, and a growth rate of 58%."
HIPAA-Compliance Has Some Surprising Benefits
Buzz also produces a HIPAA-secure, searchable record of care which is not only useful in the field, but also for compliance. When a state auditor paid Higher Standards a visit and inquired about the care of a particular patient, the clinical staff was able to recall information with ease, leading the surveyor to remark "All agencies need to use a tool like this."
Buzz helped them secure their first zero-deficiency designation in their state/federal survey. Buzz was there to save the day!
Home health groups are tasked with stewarding sensitive information from diagnosis codes to patient histories. Sharing that information over text or unencrypted email—standard practices in the industry—is not only a violation of patient trust, it's an act that puts your license at risk.
Clinical Collaboration Leads To Better Work/Life Balance
The group's nurses have also taken advantage of Buzz video calling to teach and learn from each other—building new clinical skill sets. If a new hire is inexperienced with a particular form of wound care, for example, another team member can walk her through the process, answering questions and providing visual demos.
This level of collaboration also extends to logistics. Staff frequently use Buzz to see if other clinicians can cover shifts, leading to better work/life balance and lower burnout.
Caregivers leaving their agencies to work directly for other agencies or even patients, perhaps for steadier hours or higher pay, has long been an industry trend. According to a recent survey, this trend will pick up in 2023, and this is unfortunate news for agency owners. According to Higher Standards, fostering a sense of community makes caregivers want to stay.
Key Takeaways
Mobile communication platforms are highly efficient modes of information sharing that directly impact patient outcomes, rehospitalizations, staff turnover, and organizational costs.
Mobile communication platforms must be versatile in order to facilitate optimal cooperation and information.
Implementation of mobile technology should be organization-wide, from administrative staff to medical staff.
Technology can automate large swatchs of work, creating major time and cost savings.
Mobile communication can help organizations prepare for and adapt to changes in home health, becoming a powerful point of differentiation from peers.
When platform developrs and home health agencies work together to design new features, they make new modes of care possible.