Transforming Home Healthcare for the Better
Aspire's high-quality care relies on the precise coordination of multiple providers across the healthcare continuum. This complex task requires reliable, flexible, and easy-to-use technology to achieve.
Details
Company Name: Aspire Home Health Care
Date: 2022
Website: www.aspire4home.com
Aspire Home Health Care is a premier home health orthopedic agency with a modern and collaborative care team servicing the Northern Illinois and Southern Wisconsin regions.
The Challenge
Aspire's team recognized the need for a communication platform that would help streamline their operations, while maintaining the patient-centric workflow. They implemented the communication technology QLIQ to solve the issue.
Unfortunately for them, the platform was not embraced by the medical and administrative teams due to the lack of flexibility and reliability in the underlying technology. Aspire has the right vision, but couldn't realize it with their chosen platform.
Instant Results
After an extensive search for a better alternative, Aspire selected Skyscape's innovative Buzz platform.
Buzz was designed to be flexible and intuitive—supporting a wide range of use cases—while being simple enough that clinicians could begin using it with little or no training. Buzz enables real-time video, text, audio, and document sharing in a highly secure environment. It also allows features like eSignatures, video calls, dictation, and more. Its interface is specifically designed to make communication within and between organizations more efficient. Many Buzz users report positive changes in their workflow efficiency—with resultant improvements in patient care, staff satisfaction, and cost reduction.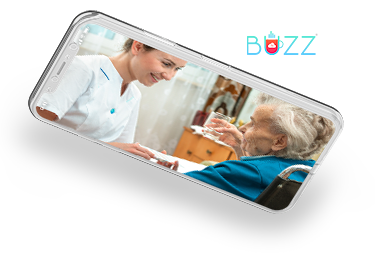 "The ease & efficiency of communication supported by Buzz allows staff to work together in new ways, allowing the potential issues to be flagged & treated quickly, before they develop into problems that require hospitalization."
"Skyscape's capabilities were far beyond those of our prior tech partner. They've been so great at developing the new features that streamlined our workflow."
Adapting to Change
The health landscape is always changing, but the last 2 years have been particularly difficult for many organizations. Acute staffing challenges across healthcare for example, have placed huge stresses on organizations, individual practitioners, and patients themselves. But technology can play a role in mitigating these difficulties. Buzz not only allowed Aspire's healthcare teams to treat more patients with greater efficiency, it also created opportunities for administrative staff to stay in frequent contact with their staff in the field. According to Aspire, maintaining lines of communication, particularly with part-time staff, had a large effect of staff retention.
Communication technologies like Buzz are also important in adapting to a changing regulatory environment. Home health and post-acute care continue to grow rapidly. And while this presents major opportunities for those working in the space, it
will likely come with growing regulatory oversight. Luckily, technology like Buzz eliminates the seeming tradeoff between convenience and security. With Buzz, you can replace the jumble of communication methods—like email, fax, phone calls, and text—with a single platform. And as Aspire points out, this is not just a smart move from a regulatory perspective, but it's also what your patients deserve.
Creating A Custom Solution
With Buzz, Aspire was able to custom order features in response to particular clinical communication needs. While this seems like a lot to ask of a technology partner, the results were mutually beneficial. If one institutional user is begging for a particular functionality, chances are, others are too. Buzz rolled out dozens of changes in response to Aspire's feedback, ranging from simple tweaks to more complex functions.
A few examples of the newly introduced features to streamline Aspire's workflow:
• Search/pull all groups and conversations a user is a member of
• Search for specific messages across all group threads
• Clone groups to save time during every patient intake
• Send a broadcast message to all users in an organization or certain selected groups
• Tag conversation categories and view relevant threads
• Create instant, interactive polls via BuzzPoll, with single-choice, multiple- choice, or time-sensitive response options.
The Results
Mobile communication platforms are powerfully transforming home healthcare for the better. Far from being a simple replacement for exiting modes of communication, platforms like Buzz can fundamentally improve performance in both administrative and medical care.
Increase IN Patient Volume