As they say, there are two sides to a coin and COVID surely taught us to reinvent and be innovative. Just as remote work is now ingrained into society, so is remote healthcare. With the increasing healthcare costs, insurance companies, payors and other stakeholders are driving to keep patients out of the expensive hospital system and move to home healthcare. This is great for the home health industry but the already stressed system will feel more burden in the short term.
The policies, including reimbursements, are being redefined to account for this paradigm of care. Home healthcare has been around for a long time, and it was how patient care was initially handled – triggering memories of Florence Nightingale, the lady with the lamp, who visited patients at home and treated them.
Now, the healthcare system is more complex and as an industry must adapt to evolving changes to keep up with the demand. When a road is congested due to additional traffic, you either have to expand the road at a cost, or reduce the number of cars on the road. However, you can also increase the efficiency of traveling on the road with traffic lights, roundabouts, or other innovations so that more cars can travel. Technology is that innovative prescription for home healthcare.
As demand increases and more patients flow into the home healthcare system, staff is burdened to provide optimum care and improve patient outcomes with limited resources. That intersection is where technology platforms can help with real time communication and collaboration tools on the provider's phone itself.
So many of the commonplace tasks and activities that take place everyday are perceived as roadblocks to provide quality care. For example, if a nurse wants to message the doctor or call the patient, or if a doctor wants to communicate to a pharmacist or provide a referral, then one must be able to complete these tasks in a few seconds, allowing the provider to focus on what they do best – provide patient care.
The four major pain points for a home healthcare agency revolve around:
Operational inefficiencies that lack a Patient Driven Grouping Model (PDGM)
2. Lack of sufficient documentation leading to audits and denials
3. Loss of Revenue due to Low Utilization Payment Adjustments (LUPA)
4. Loss of Business due to low Hospital Consumer Assessment of Healthcare Providers and Systems (HCAHPS) ratings
At their core, all of these challenges are based on issues with communication, whether that's collaboration or coordination of care, documentation, and interfacing with patients. For an essential function of hospital and healthcare systems, it's remarkable how often communication can trip up an organization. A secure, robust real time communication and collaboration platform with collaboration capabilities beyond existing electronic medical record (EMR) systems can assist in solving some of these issues and reduce administrative burden manyfold.
For example, if a group "chat" is formed for every patient on the intake, all providers can communicate about the patient's care instantly and create a group-wide record. The provider can also communicate with patients and their families using audio (caller id enabled for discreet calls) or video/telemedicine, get document consents easily through the app itself, receive (or send) faxes in the app and also reach out to providers for referrals outside the organization.
One such example is Skyscape's Buzz platform, which is a robust HIPAA-secure available as a mobile app or can be used on a desktop browser. Buzz also integrates trusted reference knowledge information which is a good companion to confirm any dosage or diagnosis at the point of care.
Example of functionality that is useful for Home Health Real Time Communication & Collaboration Platform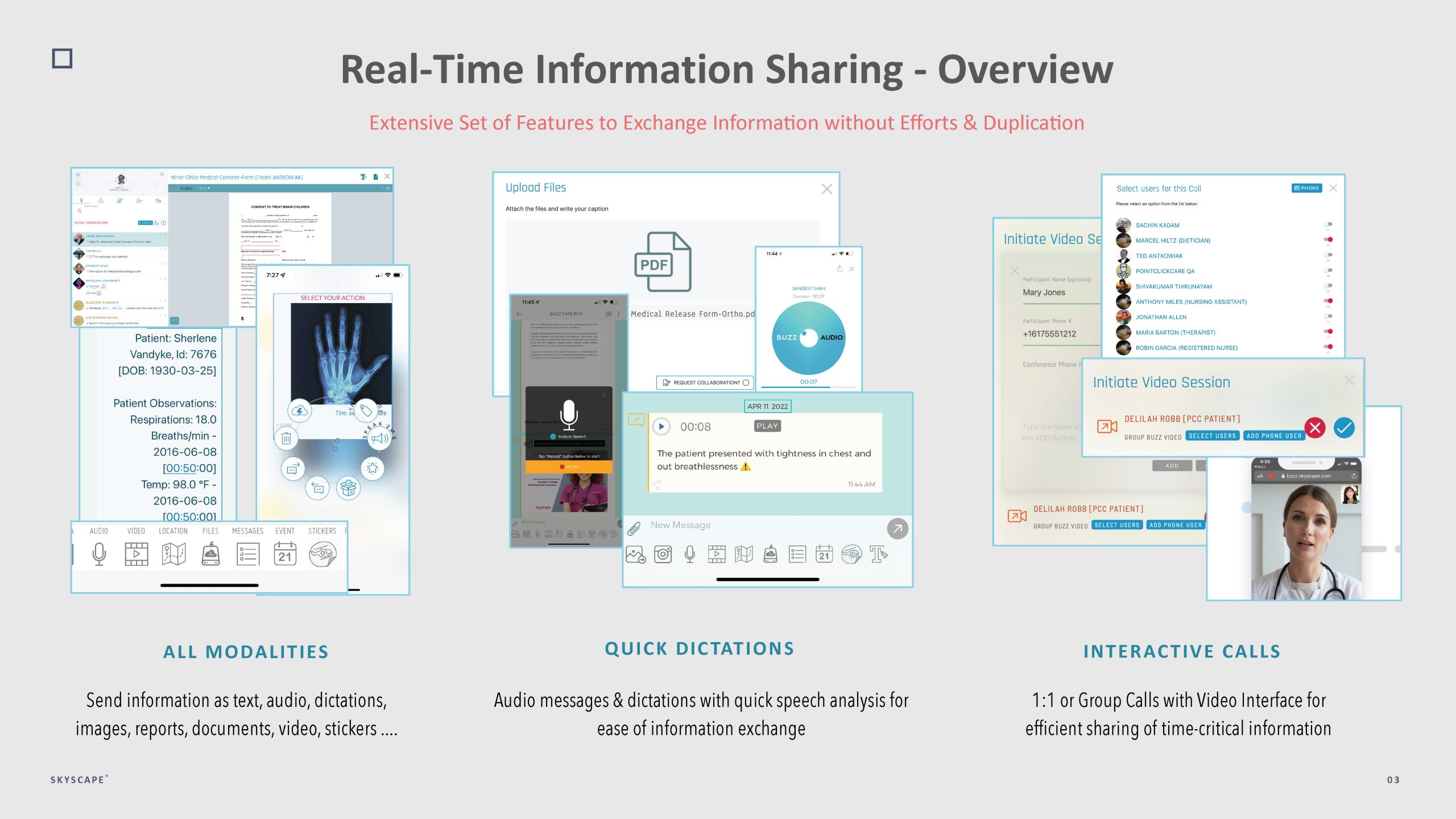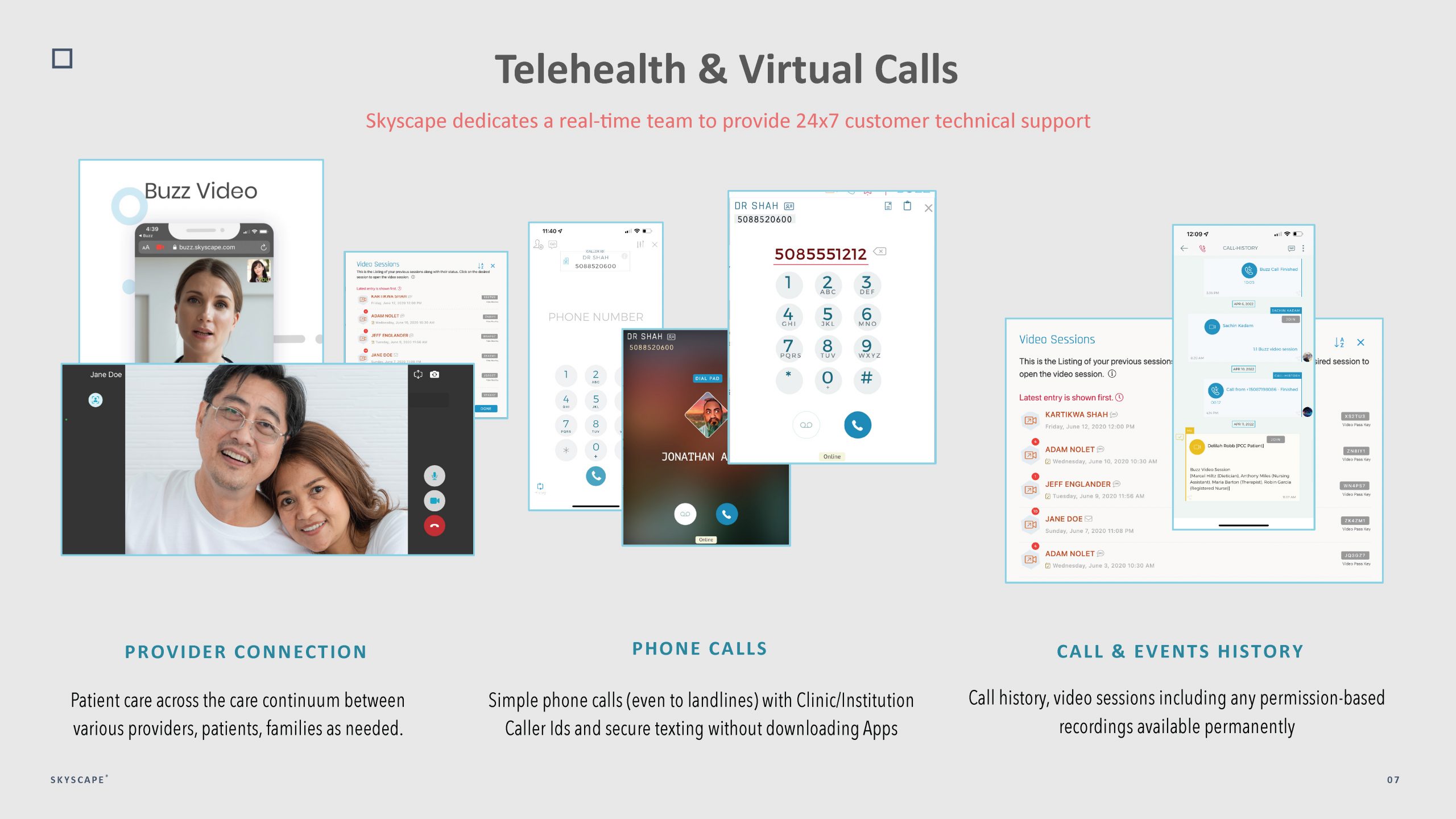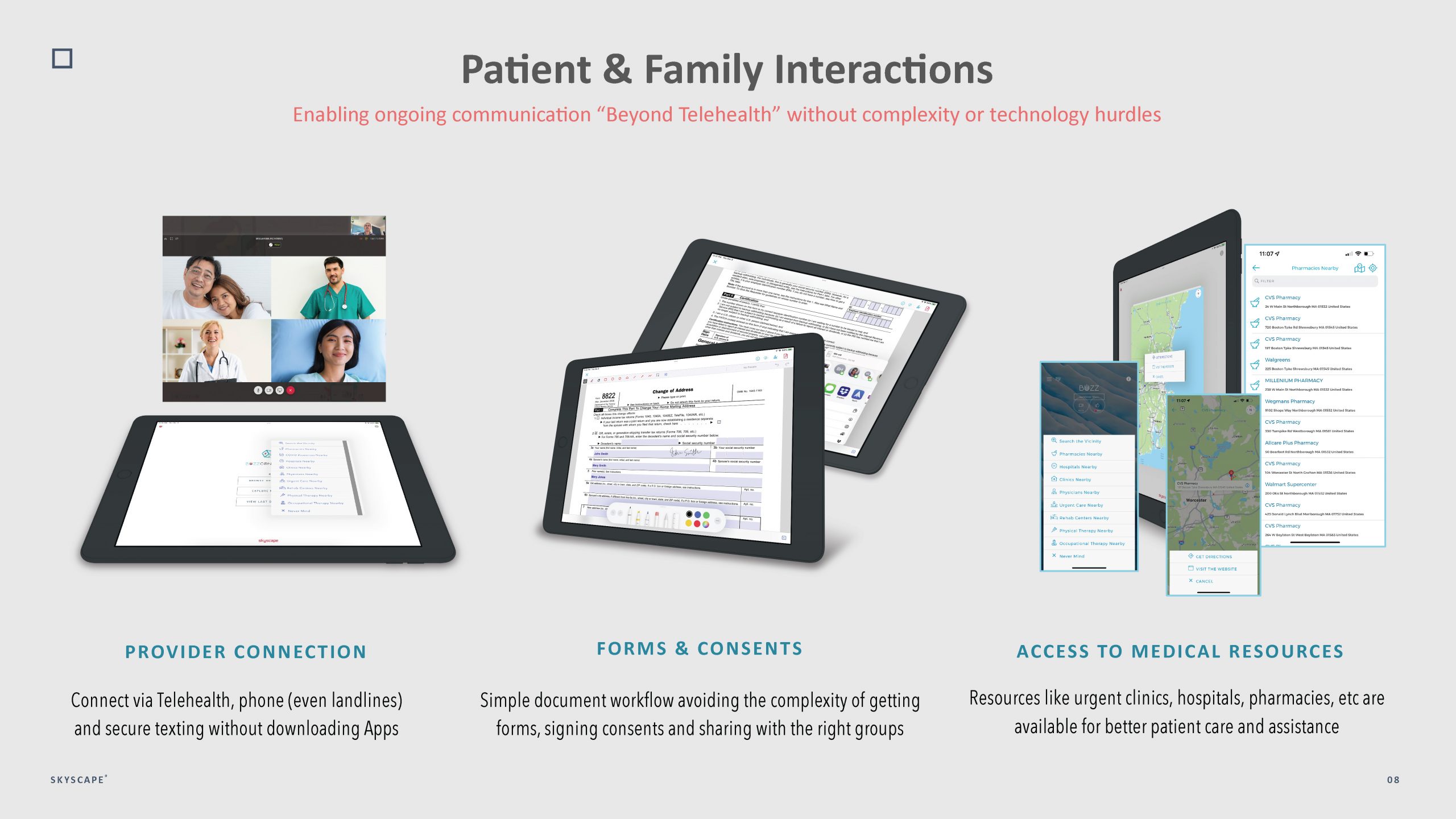 With the maturity in telemedicine, hybrid care models are now popular across all healthcare silos – hospitals, clinics and home health centers. This can help reduce costs and save time for both the patient and provider. Even with rehab, patients can be sent home earlier with videos of the exercise and a well documented rehab plan for the patient. When a nurse visits a patient at their home, technology can assist the nurse to communicate securely back to the home office with any questions, exchange documents/consents, and update patient progress and charts, all seamlessly from a remote location.
Technology can be a real friend, if deployed correctly. The irony is that in home healthcare operations that technology itself can be useful to cut the clutter created by technology. EMR implementations have created additional complexities and time-costing administrative burden instead of simplifying care for providers. A collaborative technology can coordinate care teams within their existing workflow instead of creating new workflows.
EMR has its usefulness over the long run for record keeping and documentation but one can get started with an inexpensive real time communication and collaboration app that can be installed within minutes and can cost as little as a cup of coffee. An organization can streamline their communications and improve efficiencies by getting started at a cost as little as $5/user/month. When deploying any technology, security is key, and proper due diligence must be made to ensure patient data is not compromised and HIPAA level security is conformed to.
Home healthcare stands to benefit as the patient care shift from hospitals to home continues to gain momentum. Technology can surely be a friend to help the home health industry keep up with the increasing demand and continue to meet the ultimate goal of improved patient outcomes.